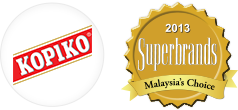 Made from the extraction of real coffee beans, you can enjoy the authentic, great taste of real coffee in a candy anytime, anywhere. A great "pocket coffee" to wake you up when you are on the go.
Kopiko Sugar Free
Enjoy the new no added sugar Kopiko coffee candy without compromising on the taste anytime, anywhere.
Sugar Free 75G
Kopiko Cappuccino
Enjoy the perfect mix between real coffee and milk, for the cappuccino sensation anytime, anywhere.
Bag 150g
Jar 900g
Refill Bag 900g
Kopiko coffee candy
Enjoy the all time favoruite authentic coffee taste anytime, anywhere.
Sachet 27g
Stick Pack 40g
Bag 150g
Jar 900g
Refill Bag 900g